TAKE TIME FOR AN ESSENTIAL EXPERIENCE . . .
DONNA M. CALL
OFFERS
THERAPEUTIC MASSAGE FOR RESIDENTS,
VACATIONERS, NEW-COMERS,
AND DISCERNING DEVOTEES,
AT YOUR LOCATION IN COASTAL
MENDOCINO COUNTY,
WITH OR WITHOUT ACUPUNCTURE.

Open with precautions for your safety and to prevent the spread of CoVid 19. Hand sanitizer, spacing, disinfecting, fresh air, air purifier, ultra violet light, masks, face shields, gloves available, temperature checks, health screening, signage.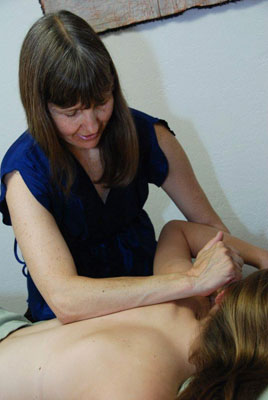 Donna's practice is a small owner-operated micro-enterprise with a history of more than 26 years of excellent, reliable service. During the last eighteen years, advanced massage therapist, Donna Call, has expanded her treatment skills through a condensed six-year study of Traditional Chinese Medicine (TCM). Now licensed in TCM, her bodywork sessions offer a masterful blend of eastern and western massage modalities, as well as a comprehensive health evaluation with recommendations for dietary, herbal and lifestyle adaptations to enhance your well-being. For your added convenience her treatments are offered either at your own location (inn, vacation rental, or residence), or her coastal offices in Fort Bragg and Gualala.
If you choose Donna's "spa-to-go" sessions, as opposed to visiting one of her conveniently located offices, you can ease into your session in the privacy of your own inn room or vacation home. Relax afterward rather than having to drive. However, these sessions require a three hour minimum and are priced higher than office visits.
A typical treatment delightfully blends Swedish and deep-tissue massage, five elements acupressure, tui na, shiatsu, and energetic balancing techniques to create harmony of body, mind and spirit. Pressure is always variable based on your preferred style. Lie on a roomy spa—portable heated massage table covered with cozy flannels and blankets— and give way to a refreshing rest.
Reserve time for yourself and your special someone... you both deserve it.
Curious about acupuncture? Donna offers unique massage and acupuncture combinations. Visit Donna's TCM site, to learn more about how acupuncture and Chinese Medicine can help you.
Office Rates
Enjoy my Seasonal Sampler especially designed for visitors to the coast to enhance your relaxation: Focusing on acupressure points and health tips to enhance your health with the seasons during your massage session. Available in my office locations in Fort Bragg or at St. Orres.
Indulge in a lengthy spa session, and enjoy as many add-ons of your choice to your massage session. Choose from hot rocks, aromatherapy, dry brush massage and Chinese gua sha massage, acupuncture, cupping, moxabustion, infrared heat lamp, kinesiotaping, and herbal facial massage.
Please note that there is a two hour minimum for office visits for massage on the weekends and holidays.
Just for You:
Two Hours of the Sampler: $240; additional time at $60 per hour
Weekdays Just Massage in Fort Bragg only: choose as much or as little time as you want for $60 per half hour
Weekdays Acupuncture and Massage Combinations in Fort Bragg: $120 per hour for new clients; $60 per half hour for just acupuncture or just massage for return clients.
Please note there is a two hour minimum for my treatments at St. Orres, my Anchor Bay/Gualala location. If you want less than that please ask anyway because if I am there for other guests or local clients, I will be happy to accommodate you for less time at the rate of $65 per half hour. With prior arrangement, I can schedule you on weekdays, usually mornings or evenings, and more flexible hours on weekends. It is less likely that I can see you with same day notice at St. Orres, but your inquiry is always welcome.
For couples in both office locations: 2 consecutive one hour massages $240; 2 consecutive 90 minute massages $300
Tandem sessions for couples in both office locations: Come in together and rest on two tables in the same room. Enjoy a soothing blend of massage interspersed with rest time or with acupuncture or warm rocks as Donna works fluidly from one of you to the other. 90 minutes $195; 2 hours $240
Click on the Services link at the top of the page for my secret menu of rates for 'outcalls' to your home or lodging on the Mendocino Coast.
Fort Bragg location:
18300 Old Coast Highway, behind Shoreline Vacations Rentals/ReMax Real Estate
View Larger Map
Anchor Bay/Gualala location:
Donna's office is in the Creekside area of St. Orres, 36601 South Highway 1, north of Gualala
View Larger Map